Consulate General of the Argentine Republic in London
Address and contact numbers:
27 Three Kings Yard
London W1K 4DF
United Kingdom
Tel.: 020 7318 1340
Fax: 020 7318 1349
IN CASE OF EXTREME URGENCY OR EMERGENCIES INVOLVING ARGENTINE NATIONALS SUCH US, DETENTION, DEATH, INJURIES, LOSS OR THEFT OF PASSPORT. PLEASE CALL T.0780-245-7931.
Opening hours (*)
Monday to Friday, 9.30 - 13 hs.
Telephone enquiries: Monday to Friday 9.30 a 13 hs.
(*) ARGENTINE/BRITISH BANK HOLIDAYS
E-mail addresses:
Due to previous issues receiving emails from private addresses, it is recommended to contact the Consulate from @gmail.com accounts.
Visa inquiries and appointments must be requested and scheduled ONLY by the following email address visasclond@mrecic.gov.ar. Include full name, nationality, dates of travel, and purpose of the trip. All inquiries must be submitted in writing by email. We do not answer inquiries by phone or check applications by email.
Nearest tube station:
Bond Street (Central & Jubilee Line)
How to arrive :
Three Kings Yard is a private court yard off Davies St. opposite Gordon Ramsay restaurant (Claridge's Hotel). You access it through a small black iron gate which you will see on the left side. You have to push to open (there is no need to enter any security code). The Argentine Consulate General is at No. 27, on the right hand side half way through showing the argentine flag and shield.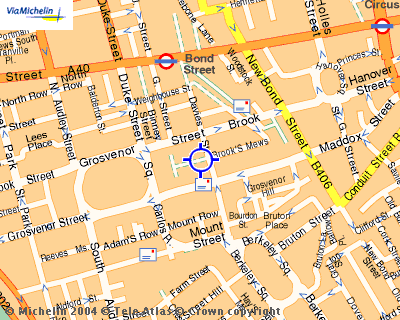 Consulate´s Location
IMPORTANT
All kinds of documents and applications must be submitted with a prior appointment. Please contact the Consulate General to make arrangements. No intermediary is required to contact the consulate or apply for a visa